The UpCycle Ecocharger, GM, Pedal Power and The Pan Am Games
The UpCycle Ecocharger, Pedal Power, The Pan Am Games, Chevrolet, and the #PowerOfPlay
How the little guy worked with the big boys to innovate, delight, and inspire thousands!
It Started Innocently Enough
In late January, 2015, I got an email from a managing engineer from Chevrolet Canada, saying they were interested in the UpCycle Ecocharger for help charging an interactive exhibit based on a concept they were developing called a Microgrid.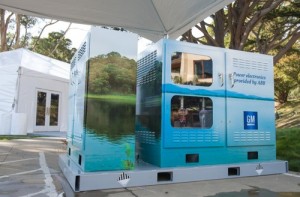 They were creating an interactive demonstration, and wanted pedal power to help make it more engaging.
Based on their research, the Eco-charger appeared to be durable enough for their setup, but they needed to do extensive testing to be sure it would be up to their standards.
That sounded interesting to me, but I was doubtful it would work. It was a lot of complicated electronics.
They Had Bigger Plans
After sending a DIY kit for testing, I was told it was going to be part of a display at the 2015 Pan Am Games in Toronto.
Obviously this was exciting to me, and I let them know I'd be happy to help them make it happen, given my extensive experience explaining human power since 2008.
Little did I know this would turn into such a big production, and that my little DIY kit would end up being an integral part of an international sporting event, sponsored by one of the largest auto companies in the World.
by